Case Study On Marketing Communication Strategy
What do effective integrated marketing campaigns have in common?
Integrated marketing campaigns can be a tricky art to perfect. We live in a multi-media world, which means that new media and old media sit alongside one another, sometimes competing, other times working collectively - in the case of integrated campaigns they work together.
However despite saying all of this, what is it that actually leads to successful results? Consistent branding and messaging, frequency of communications and deciding on your primary medium are collectively important points to factor in. Let's take a look at some of the most impressive integrated campaigns:
#1 Compare the Market - Baby Oleg
On Christmas Day 2013, comparethemarket.com released a television advert revealing new character Baby Oleg. In January 2014 the campaign went into full swing with an advertisement promoting a cuddly toy to accompany the cute Meerkat. Following this announcement a blog was created for Oleg online, for customers to read, encouraging emotional involvement: http://www.comparethemarket.com/meerkat/blog/oleg/.
Connecting the character from the advertisement with the audience has been achieved by creating a toy and the blog, turning Oleg into a character that can create emotional involvement - integrated collectively these separate parts to the campaign have driven consumer engagement successfully.
More recently, in August we were shown Baby Oleg's life journey.
The continuous roll out and development on this character throughout the year has proven consistency of the brand and messaging - key factors in creating a solid campaign. These friendly Meerkats have almost become part of everyday life, as they quite literally pop up everywhere.
#2 O2 - Be More Dog
Originally launch last year O2's 'Be More Dog' campaign, which featured a ginger cat trying to live a dog's life had been a huge success for the brand. Granted - being 'more dog' has nothing to do with mobile phones, but the quirkiness of the integrated campaign is what led its success.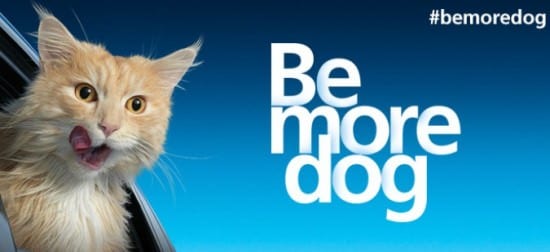 To promote its revamped priority app in May 2014 launched a £7m campaign using England rugby players, Mike Brown and Alex Goode attempting to Be More Dog: in this, we see the cat become a motivational speaker.
As well as television and cinema, the campaign also features outside and online executions, with geo-located mobile advertisements and homepage takeovers on a range of websites, including MSN and YouTube. The O2 priority app in itself is a marketing tool, offering consumers the chance to buy tickets and experiences before anyone else.
This integrated marketing campaign from O2 is so clever it not only intrigues users due to its kooky nature and offers them something extra in the form of priority.
#3 Three.co.uk - Sorry for all the holiday Spam
Launching a package for customers to use their phone in 16 destinations worldwide like they would at home, with no extra cost for data led to 3 having to make one large apology... to the entire nation.
Due to their poor deal, it mean't everyone was constantly on social media whilst on their holiday, encouraging a shed load of holiday spam: photos of beaches, swimming pools, sunsets, tanned legs and of course, food. Along with this there a website was created dedicated to the cause: http://www.stopholidayspam.com.
The first part of the campaign, the television advertisement was enough to get viewers' attention, but then came customer engagement and interaction. As predicted or at least as the marketers over at 3 had hoped consumers got involved and took holiday snaps using the hashtag #holidayspam. Of course some of those social media posts wouldn't have been done consciously because of 3, which makes the campaign so clever.
Relevance is the key to this integrated campaign - it was successful by people being able to relate to it, whether they were on holiday, or fed up of everyone else's holiday spam. The campaign was also consistent with the hashtag #holidayspam included in every part of the marketing collateral.
#4 Lidl - #lidlsurprises
The most recent Lidl Surprises, ingenious campaign rolled out on the 4th September on television, print and outdoor - accompanied by a larger than normal social media boost.
The TV advertisement shows customers enthusiastically looking at, and purchasing wholesome goods at a little market, which in fact turns out to be a Lidl market - this is followed with the #lidlsurprises tagline, because everyone loves a pun.
The hashtag/tagline has been integrated throughout all channels connecting all elements together. There's also an interactive website dedicated to #lidlsurprises where you can spin to receive the surprise result of a recipe to cook: https://www.lidlsurprises.co.uk.
The entire campaign is amongst Lidl's efforts to step away from traditional media, moving into engaging and interacting with its customers on social media and in stores. Mixing both traditional and digital media together offers a smooth transition to a more up to date modern approach for Lidl's marketing efforts.
This campaign is definitely a step in the right direction, putting Lidl right up against UK supermarket giants like Tesco and Asda. It is difficult to determine the full extent of the success this campaign has achieved yet. Despite this, the social media buzz surrounding it was significant.
#5 Coca-Cola - Coca-Cola Life
Recently, Coca-Cola launched a new product to its long standing line of soft drinks, called 'Coca-Cola Life' along with a month long campaign. Coca-Cola Life fits in the same kind of category as Coke Zero and Diet Coke - another one of Coca-Cola's attempts to release a healthier option to its main heavily sugary product.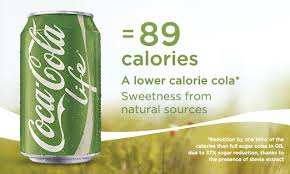 The campaign is being rolled out across 7,000 outdoor locations nationwide with billboards, bus and digital screen ads; these are all being supported by print, digital, experiential and point of sale activity. Although television is not being used the buzz on social media since the drinks' launch has been mainly positive.
Along with all of the above, Coca-Cola launched a competition - on Saturday 20th September a pop-up shop opened on South Molton Street, London offering customers to not just have a taste of the new Life drink, but also give them a chance of winning a Coca-Cola Life prize - one of those being a long weekend in New York City. Of course, to fulfil the campaign's integrated position those who were not able to visit the pop-up shop still had the chance to enter the competition by sharing a Coca-Cola Life moment picture online and using the hashtags #CocaColaLife and #comp.
The product is yet to be proven as a success, but as a campaign it's fulfilling every specification to be a great integrated marketing campaign.
There's a few lessons that can be learned from these integrated marketing case studies; one of those being that it doesn't matter if you mix up the media within your campaign, in fact it's largely positive, you just have to ensure that there is brand consistency across the entire roll out.
The way in which the message is communicated can also alter the effectiveness of the campaign, as can choosing which media should be at the forefront or the driving factor behind your strategy. It can all become a difficult balance to get right but it's crucial that you do get it right.
[Editor's note: Thanks to Maggie for selecting and describing these case studies of integrated campaigns so well. For our advice on creating better integrated campaigns, see our integrated campaign planning guide and template for Expert members.]
Maggie Majstrova is the Studio Manager at Higher Ground Creative, with a background in Account Management and Web Development. You can connect with Maggie on LinkedIn and Google+ 
Start the discussion on our community and social networks
THE PEMBROKE HILL SCHOOL
2 YEARS-GRADE 12, COED, DAY • KANSAS CITY, MISSOURI
RESULT: SURPASSED CAPITAL CAMPAIGN GOAL BY 36% AND BROKE A 100-YEAR RECORD FOR PARENT PARTICIPATION AND GIVING IN THE ANNUAL FUND.
"I just received a call from an alumna regarding the case. She told me she had been planning on leaving the school a very modest bequest, but because of the case she has increased her estate gift to $50,000."
"I had a visit from an elderly alumnus yesterday, who is already including us in his estate. The case made him decide to also give us $5,000 outright."
"In response to the Centennial Campaign case, we received $358,000 in new unsolicited campaign commitments last week! Gifts range from $50 to $100,000. In fact, two of the three $100,000 donors were not even on our radar to solicit at some point. One donor has told me over and over for years that she will not give to the school. When she saw the list of on-campus naming opportunities, she changed her mind so she could name a classroom after her son."
"Our annual fund is a month away from closing, and we have not only increased parent participation from 53% to 74% in one year, but we have also broken a 100-year record for it."
— Doreen Rice, Director of Advancement, Pembroke Hill School, Kansas City, MO
In the fall of 2011, Pembroke Hill School in Kansas City, Missouri, turned to Turnaround Marketing Communications for help with its Centennial Campaign, whose goal was to raise $13 million for endowment. The school wanted to revive the campaign, which had become stalled as a result of the economic downturn in 2008. Deciding to go public after receiving $4 million in commitments, PHS secured a $2 million challenge grant from a prominent family, contingent on raising the $13 million by June 2013.
We discussed our usual campaign marketing process with Doreen Rice, Director of Advancement, who told us that the community was experiencing research and focus group "fatigue." Pembroke Hill would work with us if we could truncate the normal discovery phase. We agreed, and we managed to get what we needed by absorbing the school's existing research and interviewing a small but key group of community members, whose authentic voices provided zest to the messages. Blending our client's wants and restrictions with Turnaround's experience and expertise in campaign marketing strategy, we created a recipe for a successful case statement.
STRATEGY, STRATEGY, STRATEGY
We custom designed a strategy for garnering the attention of potential large donors. This included a great deal of education about campaigns in general and Pembroke Hill's campaign in particular, tapping the school's superior reputation and building on its success.
CONTENT THAT DRIVES RESULTS
Rushing to get photography for the case statement before the end of the school year, Turnaround developed a shoot list for Pembroke Hill School's photographer and selected the best shots to tell the campaign story. We then took the school's "vanilla" statement of need and a number of supplied donor profiles and added flavor through the promotion of faculty, motivating quotes from interviews, and powerful charts and graphs. Our skilled writer baked all of this into a seamless, well-edited manuscript that set the right tone. In eight weeks, the 20-page case statement was delivered to 400 high-target constituents, followed by a mini case statement delivered to 8,500 general targets.
A WEBSITE THAT ECHOES THE CASE (AND VICE VERSA)
Well aware that print doesn't translate well to digital media, Turnaround designed the campaign web page and filled it with content that was crafted to educate, inform, and motivate prospective donors. The goal was not to garner online gifts, but to generate interest and enthusiasm about the campaign for website visitors.
RESULTS THAT (PLEASANTLY) SURPRISED ALL
By June 2013 Pembroke Hill School had raised $15.7 million in commitments, surpassing its $13 million goal. The $2 million challenge grant brought the campaign total to $17.7 million. Unexpected gifts from known donors, gifts from donors who were not on the school's radar, and increased gifts from the board and steering committee spurred the campaign's completion. Contributors had responded well to the case statement—the emotional resonance of donor profiles, the compelling and appealing case for endowment support, and the focus on estate gifts.
BRINGING THE ANNUAL FUND ALONG
At many schools, when a campaign is in full swing, the annual fund suffers. At Pembroke Hill, the campaign had the opposite effect, especially with current parents. Thanks to a new focus on fundraising generated by the campaign, parents began to see their own importance.
The school decided to emphasize annual fund participation, not dollars. A segmented approach was taken, promoting 100% parent participation, 1,100 alumni gifts, and 2,000 general donor gifts. Turnaround developed a strategy and annual fund appeal for parents that hit all the high notes, including a chart that demonstrated how low Pembroke Hill School's participation rate was compared to its peers.
The school reinforced the importance of the annual fund with a clever and memorable idea. The week prior to spring break, standing in the carpool line, board members distributed Pembroke Hill School mugs with tags reading, "Every One, Every Year"—the annual fund theme. The board members introduced themselves to parents and answered their questions about fundraising. An "Every One, Every Year" thermometer continued to keep parents apprised of annual fund progress and postcards reminded them to make their contribution.
As a result, Pembroke Hill broke a 100-year record for parent participation in the annual fund, increasing it from 53% to 74% in one year.
Along with record-breaking participation, parent giving was also $50,000 ahead of the previous year's annual fund. Overall, Pembroke Hill's 2013-14 Annual Fund has set an all-time high for total giving, raising nearly $100,000 more than the previous record.
FOLLOW UP
We are delighted that Pembroke Hill School continues to partner with Turnaround for their development marketing including their annual fund appeals and yearly themes.