Informed Citizenry Essay Checker
Introduction
Like many people, you probably learned the basic rules of grammar in school. And like many people, you've probably forgotten much of what you learned. Is ending your sentences with a preposition really that bad a practice? Are there hard and fast rules for when to use who, that or which? Where does the comma go?
All of these questions, as well as many more, can plague both amateur and professional writers.
Our online spelling and grammar checker will answer those questions and (hopefully) help you gain more confidence in your writing.
Who Uses a Grammar Checker
Student writings need the most proofreading as teachers and instructors often expect the papers to be error-free. Secretaries, job seekers, blog and article writers, or anyone who wants to make a good impression with their writing can use this tool. In fact, even professional writers get into trouble with homonyms, words that sound alike but are spelled differently, or get confused over comma placement.
If you have access to a professional editor, these little blips are not that important, but if you don't have one, this proofreading tool is your new best friend.
The Danger of Bad Grammar
Even in these days of text-speak, thoughts dashed off in 120 characters and casual blogging, grammar and spelling still count. Of course, what we believe is valuable is the ideas expressed in writings, but these ideas may not reach us if they are delivered with poor grammar. Hence, poor grammar can mean poor communication. And many studies have proven that poor communication leads to lost clients and business deals, bad impression, and delayed work; for other interactions, distrust and misunderstanding; and for students, a low grade in school.
We can help you prevent them from happening.
Aside from learning grammar tips and rules through our our blog regularly, you can use our online grammar or spell checker, and in a minute, you're certain that you are putting out quality material for your readers.
Benefits of Proofreading
Using an online spell check has several benefits when proofreading a document. First, there's no software installation required. Everything's online, safe and secure (no texts are being stored or cached on our servers), and results are being shown almost in an instant. You just have to type in the words that you want to check in the text field, click the buttons underneath the text field to get started. And if you see see colorful underlined prompts, each one of them points out a different spelling error, grammar suggestion, or style suggestion.

Being able to write without having to scrutinize your spelling mistakes can be a freeing feeling. Here are other benefits:
1. Build Credibility
Sometimes, your words are all you have.
If you write for a living or write a lot of papers for college, having correct spelling is essential. Learning how to spell a variety of words is a lifelong process. However, by the time you reach adulthood and opportunities are opening for you, you should at least appear to know how to spell a large number of words. When trying to convince your reader of a specific point, you want it understood right, and the last thing you want is to be criticized for your spelling. Your reader may not even want to continue reading your paper if there are numerous errors. Therefore, making sure you check yourself is the quickest way to prevent this.
2. Learn How to Spell New Words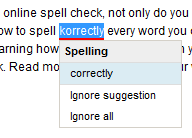 When you start proofreading your texts, you'll also learn how to spell new words properly as you go along. New words will allow you to express your thoughts better and explore different perspectives if necessary, help you gain more confidence in your writing style, and minimize the chance of occurring spelling and grammar errors. Read more about how to improve your writing in our blog post here.
3. Gain Authority
It is crucial to establish authority if you write papers for a living, for school, or for work. When your audience reads your writing, you want to come from a position of power and not from a position of weakness. Conveying correct spelling is one way to achieve this. Our spell checker can help you gain the authority you seek. Not only is it effortless to use; it is also speedy. This is a convenient way to ensure proper spelling throughout your work. Remember that people want to be associated with winners and successes. Displaying your authority on how to spell every word in your paper will allow people to focus more on your ideas and stories. That's why it's of the uttermost importance to apply proper proofreading before sending out sensitive correspondence.
4. Move Quickly
If you have to write business papers that are several pages long, it can be a time-consuming task to pore through your entire work while worrying about the spelling of certain words. You have to proofread everything, but you may not have the time to do so. Our online spell check helps you to move more quickly by giving you the correct spelling for any of your questionable words just by clicking a few buttons. Also, once you learn how to spell one word correctly, you can start to correct the same word on your own, making your writing process faster. Spending several days on one paper may not be the most profitable use of your time. Saving time means saving money!
5. Correct Mistakes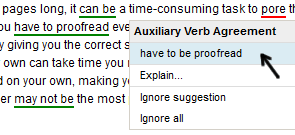 When you thoroughly check your texts, you won't have to fear possible mistakes when submitting your work to your professor, boss, or colleague. You get peace of mind through demonstrating your understanding of how to spell correctly. Additionally, your audience may look up to you for having such masterly spelling abilities. Knowing how to spell is essential for any line of work, from being a lawyer to a doctor. Would it not cause some questions in your mind if you have a doctor who constantly misspells words? Ensuring that you do not have this issue, regardless of your line of work, will give you the boost in writing confidence that you need to get the jobs. So start now and instantly correct any grammar mistakes, get vocabulary suggestions, and check your text for plagiarism, whether it is intentional or not—well, you have to be certain. But don't just blindly trust technology. Always make sure you give your texts a final proofread before you publish or send them out!
It's one of the great assumptions underlying modern democracy that an informed citizenry is preferable to an uninformed one. "Whenever the people are well-informed, they can be trusted with their own government," Thomas Jefferson wrote in 1789. This notion, carried down through the years, underlies everything from humble political pamphlets to presidential debates to the very notion of a free press. Mankind may be crooked timber, as Kant put it, uniquely susceptible to ignorance and misinformation, but it's an article of faith that knowledge is the best remedy. If people are furnished with the facts, they will be clearer thinkers and better citizens. If they are ignorant, facts will enlighten them. If they are mistaken, facts will set them straight.
In the end, truth will out. Won't it?
Maybe not. Recently, a few political scientists have begun to discover a human tendency deeply discouraging to anyone with faith in the power of information. It's this: Facts don't necessarily have the power to change our minds. In fact, quite the opposite. In a series of studies in 2005 and 2006, researchers at the University of Michigan found that when misinformed people, particularly political partisans, were exposed to corrected facts in news stories, they rarely changed their minds. In fact, they often became even more strongly set in their beliefs. Facts, they found, were not curing misinformation. Like an underpowered antibiotic, facts could actually make misinformation even stronger.
This bodes ill for a democracy, because most voters — the people making decisions about how the country runs — aren't blank slates. They already have beliefs, and a set of facts lodged in their minds. The problem is that sometimes the things they think they know are objectively, provably false. And in the presence of the correct information, such people react very, very differently than the merely uninformed. Instead of changing their minds to reflect the correct information, they can entrench themselves even deeper.
"The general idea is that it's absolutely threatening to admit you're wrong," says political scientist Brendan Nyhan, the lead researcher on the Michigan study. The phenomenon — known as "backfire" — is "a natural defense mechanism to avoid that cognitive dissonance."
These findings open a long-running argument about the political ignorance of American citizens to broader questions about the interplay between the nature of human intelligence and our democratic ideals. Most of us like to believe that our opinions have been formed over time by careful, rational consideration of facts and ideas, and that the decisions based on those opinions, therefore, have the ring of soundness and intelligence. In reality, we often base our opinions on our beliefs, which can have an uneasy relationship with facts. And rather than facts driving beliefs, our beliefs can dictate the facts we chose to accept. They can cause us to twist facts so they fit better with our preconceived notions. Worst of all, they can lead us to uncritically accept bad information just because it reinforces our beliefs. This reinforcement makes us more confident we're right, and even less likely to listen to any new information. And then we vote.
This effect is only heightened by the information glut, which offers — alongside an unprecedented amount of good information — endless rumors, misinformation, and questionable variations on the truth. In other words, it's never been easier for people to be wrong, and at the same time feel more certain that they're right.
"Area Man Passionate Defender Of What He Imagines Constitution To Be," read a recent Onion headline. Like the best satire, this nasty little gem elicits a laugh, which is then promptly muffled by the queasy feeling of recognition. The last five decades of political science have definitively established that most modern-day Americans lack even a basic understanding of how their country works. In 1996, Princeton University's Larry M. Bartels argued, "the political ignorance of the American voter is one of the best documented data in political science."
On its own, this might not be a problem: People ignorant of the facts could simply choose not to vote. But instead, it appears that misinformed people often have some of the strongest political opinions. A striking recent example was a study done in the year 2000, led by James Kuklinski of the University of Illinois at Urbana-Champaign. He led an influential experiment in which more than 1,000 Illinois residents were asked questions about welfare — the percentage of the federal budget spent on welfare, the number of people enrolled in the program, the percentage of enrollees who are black, and the average payout. More than half indicated that they were confident that their answers were correct — but in fact only 3 percent of the people got more than half of the questions right. Perhaps more disturbingly, the ones who were the most confident they were right were by and large the ones who knew the least about the topic. (Most of these participants expressed views that suggested a strong antiwelfare bias.)
Studies by other researchers have observed similar phenomena when addressing education, health care reform, immigration, affirmative action, gun control, and other issues that tend to attract strong partisan opinion. Kuklinski calls this sort of response the "I know I'm right" syndrome, and considers it a "potentially formidable problem" in a democratic system. "It implies not only that most people will resist correcting their factual beliefs," he wrote, "but also that the very people who most need to correct them will be least likely to do so."
What's going on? How can we have things so wrong, and be so sure that we're right? Part of the answer lies in the way our brains are wired. Generally, people tend to seek consistency. There is a substantial body of psychological research showing that people tend to interpret information with an eye toward reinforcing their preexisting views. If we believe something about the world, we are more likely to passively accept as truth any information that confirms our beliefs, and actively dismiss information that doesn't. This is known as "motivated reasoning." Whether or not the consistent information is accurate, we might accept it as fact, as confirmation of our beliefs. This makes us more confident in said beliefs, and even less likely to entertain facts that contradict them.
New research, published in the journal Political Behavior last month, suggests that once those facts — or "facts" — are internalized, they are very difficult to budge. In 2005, amid the strident calls for better media fact-checking in the wake of the Iraq war, Michigan's Nyhan and a colleague devised an experiment in which participants were given mock news stories, each of which contained a provably false, though nonetheless widespread, claim made by a political figure: that there were WMDs found in Iraq (there weren't), that the Bush tax cuts increased government revenues (revenues actually fell), and that the Bush administration imposed a total ban on stem cell research (only certain federal funding was restricted). Nyhan inserted a clear, direct correction after each piece of misinformation, and then measured the study participants to see if the correction took.
For the most part, it didn't. The participants who self-identified as conservative believed the misinformation on WMD and taxes even more strongly after being given the correction. With those two issues, the more strongly the participant cared about the topic — a factor known as salience — the stronger the backfire. The effect was slightly different on self-identified liberals: When they read corrected stories about stem cells, the corrections didn't backfire, but the readers did still ignore the inconvenient fact that the Bush administration's restrictions weren't total.
It's unclear what is driving the behavior — it could range from simple defensiveness, to people working harder to defend their initial beliefs — but as Nyhan dryly put it, "It's hard to be optimistic about the effectiveness of fact-checking."
It would be reassuring to think that political scientists and psychologists have come up with a way to counter this problem, but that would be getting ahead of ourselves. The persistence of political misperceptions remains a young field of inquiry. "It's very much up in the air," says Nyhan.
But researchers are working on it. One avenue may involve self-esteem. Nyhan worked on one study in which he showed that people who were given a self-affirmation exercise were more likely to consider new information than people who had not. In other words, if you feel good about yourself, you'll listen — and if you feel insecure or threatened, you won't. This would also explain why demagogues benefit from keeping people agitated. The more threatened people feel, the less likely they are to listen to dissenting opinions, and the more easily controlled they are.
There are also some cases where directness works. Kuklinski's welfare study suggested that people will actually update their beliefs if you hit them "between the eyes" with bluntly presented, objective facts that contradict their preconceived ideas. He asked one group of participants what percentage of its budget they believed the federal government spent on welfare, and what percentage they believed the government should spend. Another group was given the same questions, but the second group was immediately told the correct percentage the government spends on welfare (1 percent). They were then asked, with that in mind, what the government should spend. Regardless of how wrong they had been before receiving the information, the second group indeed adjusted their answer to reflect the correct fact.
Kuklinski's study, however, involved people getting information directly from researchers in a highly interactive way. When Nyhan attempted to deliver the correction in a more real-world fashion, via a news article, it backfired. Even if people do accept the new information, it might not stick over the long term, or it may just have no effect on their opinions. In 2007 John Sides of George Washington University and Jack Citrin of the University of California at Berkeley studied whether providing misled people with correct information about the proportion of immigrants in the US population would affect their views on immigration. It did not.
And if you harbor the notion — popular on both sides of the aisle — that the solution is more education and a higher level of political sophistication in voters overall, well, that's a start, but not the solution. A 2006 study by Charles Taber and Milton Lodge at Stony Brook University showed that politically sophisticated thinkers were even less open to new information than less sophisticated types. These people may be factually right about 90 percent of things, but their confidence makes it nearly impossible to correct the 10 percent on which they're totally wrong. Taber and Lodge found this alarming, because engaged, sophisticated thinkers are "the very folks on whom democratic theory relies most heavily."
In an ideal world, citizens would be able to maintain constant vigilance, monitoring both the information they receive and the way their brains are processing it. But keeping atop the news takes time and effort. And relentless self-questioning, as centuries of philosophers have shown, can be exhausting. Our brains are designed to create cognitive shortcuts — inference, intuition, and so forth — to avoid precisely that sort of discomfort while coping with the rush of information we receive on a daily basis. Without those shortcuts, few things would ever get done. Unfortunately, with them, we're easily suckered by political falsehoods.
Nyhan ultimately recommends a supply-side approach. Instead of focusing on citizens and consumers of misinformation, he suggests looking at the sources. If you increase the "reputational costs" of peddling bad info, he suggests, you might discourage people from doing it so often. "So if you go on 'Meet the Press' and you get hammered for saying something misleading," he says, "you'd think twice before you go and do it again."
Unfortunately, this shame-based solution may be as implausible as it is sensible. Fast-talking political pundits have ascended to the realm of highly lucrative popular entertainment, while professional fact-checking operations languish in the dungeons of wonkery. Getting a politician or pundit to argue straight-faced that George W. Bush ordered 9/11, or that Barack Obama is the culmination of a five-decade plot by the government of Kenya to destroy the United States — that's easy. Getting him to register shame? That isn't.
Joe Keohane is a writer in New York.
© Copyright 2012 Globe Newspaper Company.